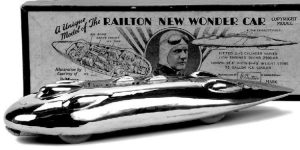 John Cobb Crusader. John Cobb – who had already broken the current land speed record in the early 1950's – had decided to turn his attention to the water speed record. His arena of choice for this attempt would be the waters of Loch Ness. Thanks to his waiting for perfect weather conditions and calm, flat waters his attempt was successful – as he and his speedboat "Crusader" (the very first jet propelled boat specifically designed for the purpose at hand) broke the record with ease.
Cobb broke the record, becoming the first to travel at over 200mph on water.
Tragedy was to follow however, as when the boat slowed down it bounced on the water and disintegrated, badly wounding Cobb in the process.

Cobb was still alive when his rescuers pulled him out of Loch Ness, but he died shortly afterwards near Achnahannet.
A memorial has been placed there by locals from Glenurquhart to commemorate the tragedy.
The remains of "Crusader" still remain in the water – resting at the bottom of Loch Ness.